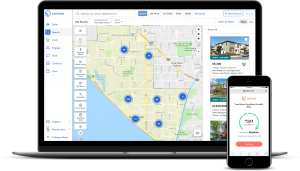 Remine is a property intelligence platform that combines property data (from MLS PIN and other sources) with consumer data into a comprehensive, map-based property search to reveal opportunity and motivation. Remine's Starter Plan (included with your MLS PIN subscription) makes it easy to find new opportunities and qualified leads so you can spend more time closing leads and less time finding them.
Turn New Prospects into Revenue
Use Remine's map-based search to find any property or person. The custom search filters dig deep into that prospect's current real estate situation and allow you to connect with the right people at the right time. Organize properties using Carts, then follow, share, or export properties, print mailing labels, or send mailers.
Upgrade your Remine account to receive notifications when data changes among the people you are tracking so you can reach out to them when they may be ready to buy. Invite customers to connect with you through your personalized Remine homepage where they can find property information and you can monitor their Remine activity.
Map-Based Search and Visualizations
Any property or person
MLS Status
Last Sale Price
Mortgage Rate
Ownership Time
Mortgage Age
Sell Score
Land Use
Building Type
Cash Buyer