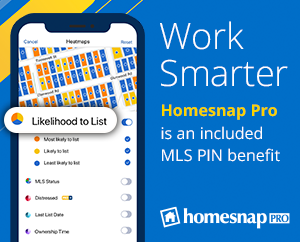 Homesnap Pro is a robust, agent-only real estate platform that features accurate, real-time MLS data and a suite of productivity and marketing tools that empower you to manage, run, and grow your business. Agents have the flexibility to research homes, contact other agents, and communicate and share real estate information directly with clients—whether in the office or on the go.
Homesnap Pro is like no other portal, app, or technology in real estate because it ensures you remain at the center of every transaction, from providing you with free leads to guaranteeing third-party advertisements will never appear on your listings.
With Homesnap Pro, agents can:
Find seller leads before the competition using heatmaps and off-market filters such as machine-learning-powered "Likelihood to List" scores
Leverage MLS data to view accurate, real-time market information
Use the Sell Speed tool to predict how fast a property will sell at various price points
Set a safety timer for in-person meetings
Deploy marketing solutions that get and keep your business front of mind with consumers
Best of all, Homesnap Pro is available at no additional cost to all MLS PIN subscribers. Register at homesnap.com or via the Homesnap app in the App Store or Google Play.
Visit the Homesnap Pro University page for webinars, videos, and other resources to help you effectively run and grow your business.